21 – 26 July 2016
Workshop & Seminar

Playing games seriously is a big deal to game scholar, Mela Kocher. In summer 2016, Mela is gaming half the world away from her Zurich home to invite youngsters and the young-at-hearts in Hong Kong to play. The city is the playground.
Do you like playing games and being outdoors? Are you fond of being creative and participating in interactive experiences?
Join serious gamers in exploring ways to experience the concept of urban play! Discuss how to apply playful strategies to public spaces!
This game week forms part of Mela's research, titled "Augmented Urban Exploration", and will be filmed by 360 Degree Filmmaker, Nicolas Büchi.
Gaming Week Details
Urban Games & Augmented Urban Exploration – Introduction & Discussion
Date: 21 July 2016 (Thursday)
Time: 6:30pm – 8:00pm
Venue: Connecting Space Hong Kong (Directions)
Speakers: Mela Kocher, Nicholas Büchi
There is a time for game, there is a time for making sense of games. In this input presentation, game scholar Mela Kocher from the Zurich University of the Arts (ZhdK) will share insights on her research thus far on the playful experiences being taken place in public urban space and their different game mechanics and aesthetics. She will introduce concepts and strategies of urban games and play across different cultures and discusses concrete examples.
This presentation on urban games will be followed by 360 degree filmmaker, Nicolas Büchi's input on the research project  "Augmented Urban Exploration". In a hands on approach, he will explain the project BUX – an app-based city walk about literature in Zurich, featuring 360° Videos and augmented reality.
Dragon Polo Workshop & Playtesting
Date: 22 July 2016 (Friday)
Time: 3:00pm – 6:00pm
Venue: Connecting Space Hong Kong (Directions)
Big call out for all handicraft makers or wannabes in Hong Kong! Game scholar Mela Kocher invites interested parties to discuss and define game rules and help shape an urban game in the first ever "Dragon Polo", which will take place in the two days that follow.
Be a pioneer! Have fun in the process!
Dragon Polo: City Race (23 July 2016)
Dragon Polo: Park Event (24 July 2016)

Date: 23 & 24 July 2016 (Saturday & Sunday)
Time and Gathering Point:
23 July 2016 – 7:30pm at Mong Kok MTR station, Exit D3 (street level)
24 July 2016 – 2:00pm at Tin Hau MTR station, Exit A1 (street level)
What happens if we combine Chinese Dragons and Polo Sports and take them into urban space? Dragon Polo it is!
Game Instructions:
Let's up this gaming business into urban spaces!
With the City Race, teams will start from the same location, the first one to hit the ball into the goal across the city wins. Interactions and mini-games in between teams will give extra points!
With the Park Event, two opposing teams of ten will race to hit the opponent's goal. The team that scores higher goals wins, of course.
Gamers are welcomed to dress and decorate in line with the 'dragon' theme. Work up that imagination!
Design and Play! Hong Kong Urban Games Design Workshop
Date: 26 July 2016 (Tuesday)
Time: 2:00pm – 6:00pm
Venue: Connecting Space Hong Kong (Directions)
This session is for those who are as curious about designing urban games as much as they like playing them. Participants will design small urban games, write missions for each other, and create their own scenarios and game rules.
Gaming software for smartphones will be demonstrated and applied. Afterwards, participants can experiment and discuss what works and what not. Let's ramble in urban game design!
What to Bring: yourself & friends, smartphones, and laptops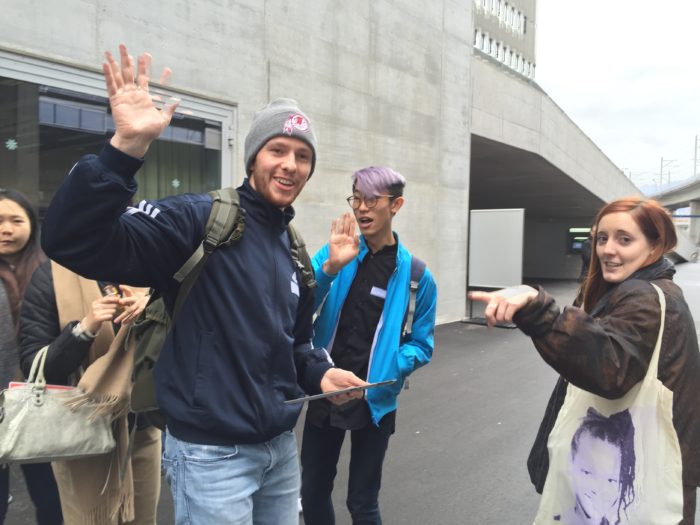 About Mela Kocher
Mela Kocher is a game scholar from Zurich, Switzerland. After finishing her dissertation on storytelling, aesthetics & video games, she spent 2 years in San Diego, USA (2009-2011), doing research on and participating in Urban Games, Pervasive and Alternate Reality Games. Today, at her job as research associate at the Zurich University of the Arts (ZHdK), she loves the combination of designing for playful events, being involved in teaching and conducting research on game design and game studies. Personally, she likes to explore the metaphor of the world as a playground.
Her recent urban game that introduces the city of Zurich to international art & design students is LucyZH (Ludic City Zurich) http://lucy.zhdk.ch
About Nicolas Büchi
Nicolas Büchi works as a research associate at the Zurich University of the Arts (ZHdK) at the Cast / Audiovisual Media program. His research focuses mainly on the use of 360° video in non-fiction storytelling. His background as Interaction Designer allows him to oversee the technological challenges in the current situation of online and social media based video content. He will film some of the urban game events in Hong Kong to provide immersive footage of the event.
Registration and Enquiries
Please contact Mela Kocher: mela.kocher@zhdk.ch
Connecting Space Hong Kong general enquiries: connectingspacehk@zhdk.ch