2 – 3 April 2016
Moving Images and Public Seminars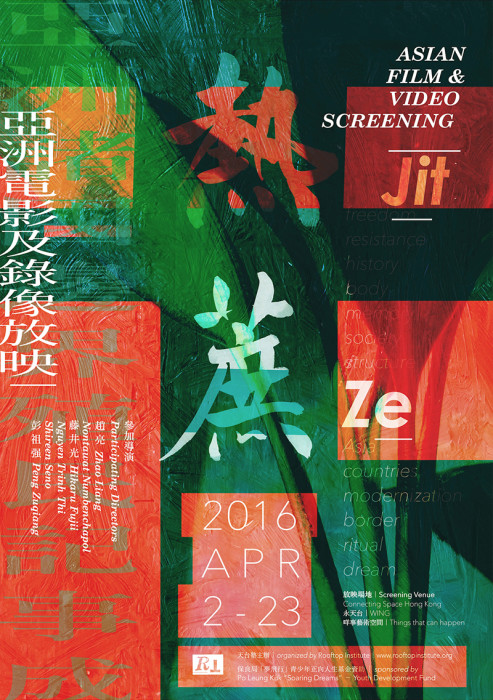 Connecting Space Hong Kong is happy to be one of the venue sponsors for "Jit Ze – Asian Film and Video Screening" – inaugural programme organized by Rooftop Institute.
Inspired by nostalgic popular snack in Hong Kong cinemas – hot sugar cane (Cantonese: jit6 ze3) – "Jit Ze" brings a taste that can be found across Asia. This programme takes film as a medium for connection and association, in the light of such sociocultural topics today in Asia as boundary, social system, belief systems, growth etc. To explore these subjects, Rooftop Institute organized the screening of films, videos and documentaries made by directors and artists from China, Japan, Thailand, Vietnam and the Philippines; each screening session will be followed by a series of public seminars and artist dialogues. The screenings are free and open to the public.
Through carefully selected screenings, the organiser hopes to provide a new perspective to understand Hong Kong's neighbouring countries. This series will reflect particularly on the following issues: reflect on history through colonial and boundary disputes; ponder over the social systems through the everyday life of people from the lowest stratum of society; think about values through dreams and adherence; see through the myth of civilization and progress through the struggles in growth; and lastly, look for the possibility of resisting memories in history through our body.
www.rooftopinstitute.org/jitze
About Rooftop Institute
Rooftop Institute (RT) originated from the idea of the "rooftop" as a traditional space of communal learning in Hong Kong; its mission is to develop a series of imaginings and practices enacted towards the concepts of space, community, learning and exchange. Our program is intended to develop artist-in-residence schemes. We invite Asian and local artists to conduct artistic research and discussions on contemporary social and cultural issues.
Admission and Enquiries
info@rooftopinstitute.org (Ms Yim)