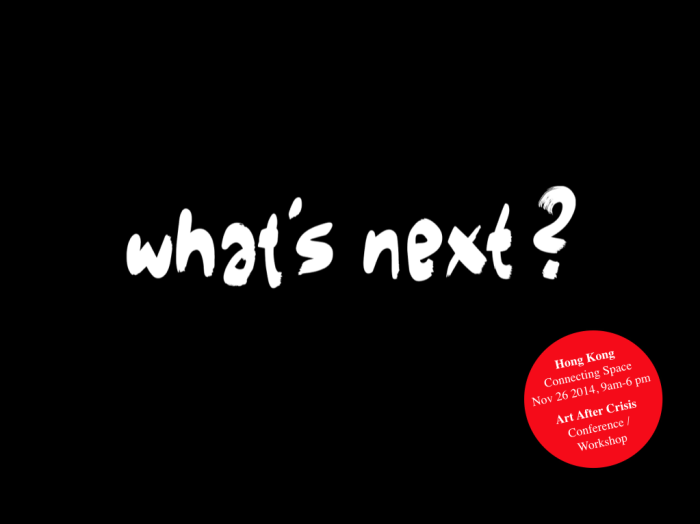 Curated by: Johannes M. Hedinger, Li Zhenhua
Panelists: Jens Badura, Dominique Lämmli, Lee Chun Fung, Johannes M. Hedinger, Isaac Leung, Li Zhenhua, Jörg Scheller, Zhang Yehong, Yung Long Song, Cao Dan, Michelle Wong, Arianna Gellini, Gabriel Leung, a.o.
Workshop Leaders: Au Step, Jörg Scheller, Jens Badura, Li Zhenhua, a.o.
Performers: Kung Chi-Shing, Anthony Yeung, tang siu wa [唐小樺], jamsen law [羅琛堡], Oliver Coates
"What's Next? Art after Crisis" discusses in theory and practice the possibilities of the art of the next society, the impending paradigm shift, the latest developments of the 'art' system as well as the changes in the conditions of production, distribution and reception of art today in a global context. In two plenary sessions, three workshops and an evening program, these subjects will be addressed and discussed with positions from theory and practice from Western and Eastern art.
《即將到來:危機之後的藝術》會議、工作坊及出版
《即將到來:危機之後的藝術》以理論及實踐形式,討論在全球背景下,未來社會藝術發展的可能性、即將進行的範式轉移、最新藝術系統之發展、以及藝術生產、分發和接收方式之改變等議題。於兩節會議、三次工作坊及黃昏活動中,講者將由中西藝術觀點及形式出發,發表及討論有關議題。