31 March 2016
Moving Images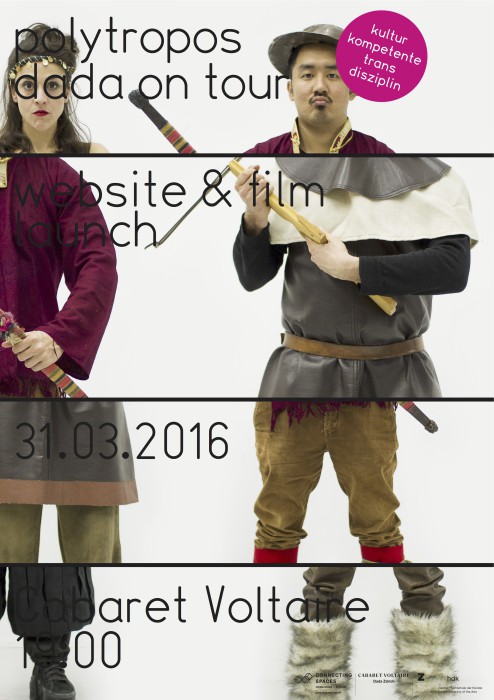 Date and Time: 31 March 2016 (Saturday), 7:00pm
Venue: Cabaret Voltaire, Spiegelgasse 1, Zurich (Directions)
Description
What does Dada have to do with Hong Kong? What does Hong Kong have to do with Odysseus? What does Odysseus have to do with Zurich? What does Zurich have to do with transcultural competence? What does transcultural competence have to do with mapping? What does mapping have to do with the face of a city? What does the face of a city have to do with scouts? And what happens, when a Turk, a Swiss, a Tibetan and a Viking give the answers?
The Essay film & Website "Polytropos – Dada on Tour" is an entertaining documentation, an adventurous journey and an enthusiastic approach to arborescent narration.
Presenters: Astrom/Zimmer, Lobsang Tashi Sotrug, Hayat Erdoğan
"Polytropos – Dada on Tour" is a Connecting Spaces Hong Kong – Zurich initiative. It is an aesthetic urban research project with interventionist, exploratory, observing, discursive and educational impact. The mission of the theoroi – in POLYTROPOS referred to as scouts – was to travel and to view different places and to collect experiences, knowledge and perceptions about foreign cultures, which they then brought  back  to  their  hometowns  to create and get an overall view of the world. POLYTROPOS takes this idea seriously and pitches its DADA-tent (a replica of the Cabaret Voltaire Crypta Zurich) at different spaces in Hong Kong and sends out scouts.
This project brings together Hong Kong-based  French  artists  Map  Office, who  are well known for transdisciplinary works in the urban field and especially on the island HK with students from the Theater Departement of the Zurich University of the Arts, students from the School of Design from the HK Polytechnic University, philosophers, DADA and many more disciplines.