Polytropos: Dada on Tour reports, presents & performs
A Future Workshop
28. November 2014, 1pm – 10pm: Workshop: Presentations and Discussions
29. November 2014, 11am – 7 pm: Atelier: Insights into Polytropos (video, photo, sketches and report)
Connecting Space Hong Kong, G/F, Wah Kin Mansion, 18-20 Fort Street, North Point, Hong Kong
Stimulus
Maps provide abstract standardized knowledge about territories; they are orientation- and navigation- guides. But, what is with the manifold appearances affecting our senses, determining, extending and addressing our perceptions when we stroll around the city, when we use streets and buildings, when we face things and observe what catches our attention?
We use maps to navigate the world, but at the same time we make up our own maps, we have our own interpretations of the world and construct our own maps in our heads. How can we make a complete map bringing together the quantitative and qualitative information?
What
From June 16 to June 26 Polytropos: Dada on Tour – The Tent travelled to different places in Hong Kong. With a tent called "Dada on Tour" and artistic research agents:
3 Artistic Directors: MAP OFFICE (Valérie Portefaix, Laurent Gutierrez), Hong Kong, and Adrian Notz, Cabaret Voltaire Zurich
13 Scouts: Students from the Master Theater Program Zurich University of the Arts, from the School of Creative Media from HK City University and the School of Design, HK Polytechnic University
Polytropos went on a research journey in Hong Kong and viewed the faces of different districts, read the city as a face, used face as a metaphor, as an imaginary map while scouting and mapping the places. Like genuine travelers we made journeys aiming to be in-between the figure of the explorer seeking to discover the unknown and the figure of the tourist following the suggested trip advisors, the participants of Polytropos travelled around as theoroi, in this project referred to as Scouts, who were sent out as certified "world viewers" (Weltschauer) to map the surroundings …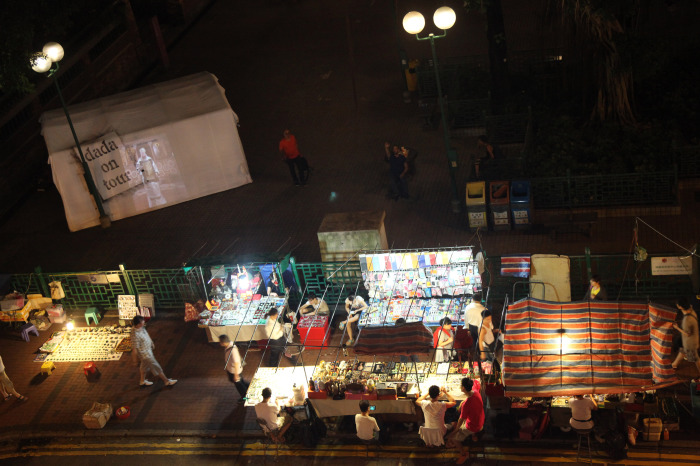 Polytropos – Dada on Tour' Reports, Presents & Performs. A Future Workshop
offers an insight into the project's past, ongoing and future activities. We will show works, sketches and present concepts of the Student-Scouts based on our first travel- & mapping experiences, we will present the "Polytropos – Dada on Tour Website" which is in its conceptual phase, talk about the project's philosophic-aesthetic dimension and welcome and instruct new future participants for the 2nd Phase in Zurich:
Program
Friday, 28 November 2014
1pm
Welcoming & Presentation of Project by Hayat Erdogan Lecture by Jens Badura: The Aesthetic Dimension of Scouting and Mapping
3pm
Presentations and Discussions of Try-Outs, Sketches, Concepts and other Material Collections by Hong Kong and Zurich Scouts
Try-Out: Performance by Jan Koslowski with Vincent IP and Franz-Xaver Mayr
4pm
Presentation: Concept and some Visuals for the Website 'Polytropos – Dada on Tour' by Anthon Astrom
5pm
Presentations and Discussions of Try-Outs, Sketches, Concepts and other Material Collections by Hong Kong and Zurich Scouts
Presentation: Video and Concept by Franz-Xaver Mayr
Presentation: Sketches by Brigid Leong
Presentation: Videos & Photos by Ling Hoi Lam, Vincent IP, Mo Yat Ting Leong & Ernest Hui Hei Yu
Presentation: Travel Journey and Concept by Shruti Sadani
8-10pm
Open Discussion and Thoughts about future activities and synergies Drinks and Snacks will be served for Open Discussion!
'Polytropos – Dada on Tour' Reports, Presents & Performs. A Future Workshop is an open Workshop set up in a Atelier like situation. It is a platform that offers students to present their works and ideas, to give them feedback in open discussions and to eventually think about concrete next steps. The Workshop also invites Kit Hung and his students from the Academy of Film, Baptist University Hong Kong as well as new students from Samson Young and others from the School of Creative Media to participate and learn about the project as the aim is to set up new synergies and cooperation for the 2nd Phase of the project that will take place next year in Zurich. As the Website of the project will be very much based on film, filmic material and 'Polytropos – Dada on Tour' sees a great potential for a fruitful cooperation with Film and Creative Media students.
Credits
Concept/Curation: Hayat Erdogan
Participants: Jens Badura, Philosopher & Project Partner, Zurich University of the Arts (ZHdK)
Anthon Astrom, Programmer & Designer, Astrom / Zimmer
Kit Hung, Filmmaker and LecturerAcademy of Film, Baptist University Hong Kong
Jan Koslowski, Student at ZHdK Master Theatre Directing
Franz-Xaver Mayr, Student at ZHdK Master Theatre Directing
Vincent IP, Freelance Photographer, Graduate from School of Creative Media Brigid Leong, Graduate from School of Design, Polytechnic University Designer & Tutor at Hong Kong Design Institute
Shruti Sadani, Graduate from School of Design, Polytechnic University
Ling Hoi Lam, Video & Photo Artist, Graduate from School of Creative Media Mo Yat Ting Leung, Student at School of Creative Media
Ernest Hui Hei Yu, Student at School of Creative Media
& more students from the Academy of Film, Baptist University Hong Kong, as well as the School of Creative Media, City University Hong Kong
Guests
Melissa Cate Christ, Founding Director of Transverse Studio and Assistant Professor of Landscape Architecture at the University of Hong Kong
Gina Wong, Director Experimenta
Adrian Wong, Artist, Co-Founder and Director of art studio Embassy projects Gilles Vanderstocken, architect, professor at School of Design, Polytechnic University
Charlotte Lafonte Hugo, architect, curator and project manager
& all passers-by and interested visitors