24 July 2016
Moving Images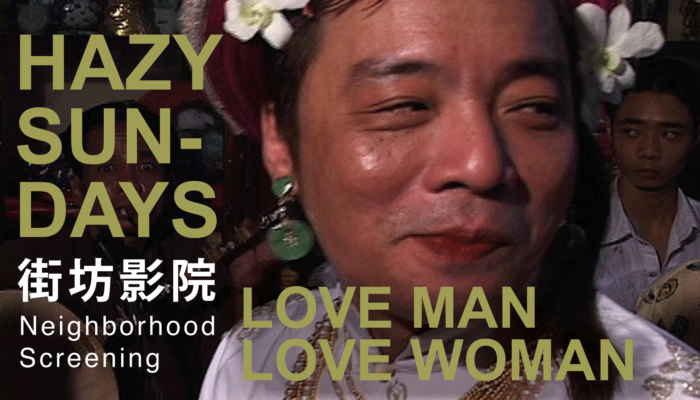 Date and Time: 24 July 2016 (Sunday), 5:00pm
Venue: Connecting Space Hong Kong (Directions)
Directed by: Nguyen Trinh Thi
Vietnam |  Color | 2007 | 54min | In Vietnamese with English Subtitles
Festival Costante Cambiamento, Florence, Italy
Jean Rouch International Film Festival, Paris
San Francisco International LGBT Film Festival 2007
OutFest Los Angeles
Yunnan Multi Culture Visual Festival, Kunming, China 
This documentary piece consists of several interviews that construct the narrative about a Buddhist master medium who is a gay person in Hanoi. Through Master Luu Ngoc Duc, one of the most prominent spirit mediums in Hanoi, and his vibrant community, the film explores how effeminate and gay men in homophobic Vietnam have traditionally found community and expression in the country's popular Mother Goddess Religion, Đạo Mẫu.
This month's film is selected by Hitomi Hasegawa. On selecting "Love Man Love Woman", she says, " [the film] is a story about the antagonism between the society and sexual minority. (It) also revealed personal role, sexual desire and status in the community. The master also has a kind of the liberation through his religious job as a master medium, but through this documentary, we rather see his agony, shadows and sadness. They make the good contrast of his bright smile and laugh, the vivid costume and makeup of the master medium, funny dance and songs."
About HAZY SUNDAYS
"Hazy Sundays" is a monthly screening programme curated by Chantal Wong, Nuria Krämer and friends. Through presenting a range of handpicked films by cultural figures in Hong Kong,"Hazy Sundays" seeks to show the various perspectives on identity construction in relation to history and the changing economic and politic situations in urban cities like Hong Kong. "Hazy Sundays" looks at the junction of artistic creation and cinema, media politics, identity and site in an approachable way, inviting members of the public and movie aficionados to engage in social dialogues, re-examining the relationships between the self and the culture.
All screening sessions are open to public and free of charge.
《愛男愛女》
彩色|2007 |54分鐘 |越南語,附英文字幕
導演:阮純詩
《愛男愛女》拍的是本土宗教「四國教」裡的靈媒,身為男兒身卻在女神降靈後儼然化身「扮裝皇后」,透過此片,導演意圖探詢的是同性戀、跨性別的生存策略,在這受中國影響存在400年的宗教裡得到庇護。
今個月請來策展人長谷川仁美選片,她說:本片是一部關於社會和性少眾對立的故事。(它)還透露個人的角色,性慾和地位之於社群的反思,片中的靈媒又怎樣以宗教工作作為載體去解放這些社會禁忌。通過這部紀錄片,我們看到他的痛苦,陰霾和悲傷;與靈媒燦爛的笑容和笑聲,鮮明的裝扮和奇特的舞蹈形成強烈的對比。