Mittwoch, 13. Mai 2015, 12.15 Uhr
Meeting point: Bistro Chez Toni, Toni-Areal, Pfingstweidstrasse 96, Zürich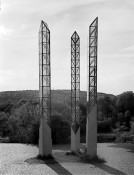 "if now was somewhere else" is a live-audio-walk over a bridge. The walk takes place simultaneously in Zurich, Hamburg and Hong Kong. During 20 minutes, the participants are guided over the bridge. The listeners are in the middle of a kaleidoskope of an inventory of three different situations, fictionalised by the absence of the other locations. The narrators are describing moments that correspond partly to self-experience, or to the present at a different location.
Participants
Crew Zürich (Zurich University of the Arts)
Désirée Meul, MA Transdisciplinary Studies
Laura Ferrara, MA Art Education
Benjamin Jagdmann, MA Transdisciplinary Studies
Charlotte Sarrazin, MA Art Education
Sound: Benjamin Pogonatos
Narrator: Monika Hölzl
Crew Hamburg (HafenCity University Hamburg)
Marie Celeste Knop, BA Metropolitan Culture
Mara von Zitzewitz, BA Metropolitan Cultur
Crew Hong Kong (Hong Kong Baptist University, Academy for Visual Arts)
Cheuk Wing Nam, Master of Visual Arts
Siddharth Choudhary, Master of Visual Arts
Lau Ming Wai, Master of Visual Arts
Cooperation with and co-funded by "playground".