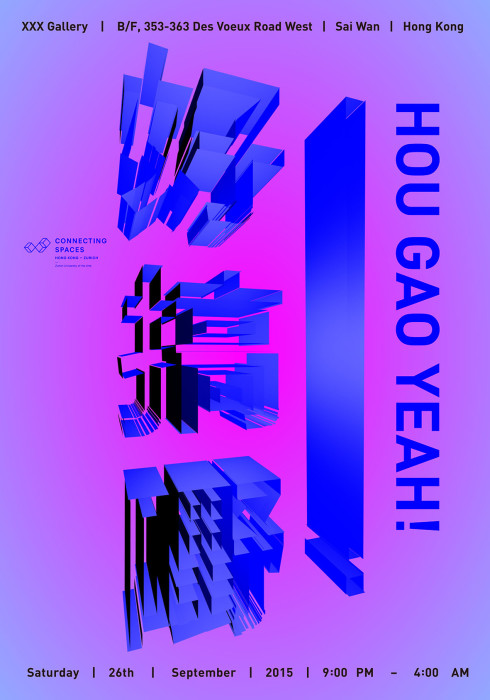 Come and drift with us through a space of experimentation on 26 September in XXX club. Immerse in a party night with performances. Artists from Hong Kong, Mainland, Taiwan, Japan and Europe in collaborative action with live music, dj's, performances, visuals, installations and interactions.
Saturday, 26 September 2015
星期六,9月26號,2015
9.30pm – 4.00am
Venue: XXX Gallery
B/F, 353-363 Des Voeux Road West, Sai Wan, Hong Kong
德輔道西353-363號, 西環, 香港
DJs
Calvin Ho (AtomicAttack! / UGLY / Robot)
Mike the unstoppable (Robot)
Jay Pelmet (Robot)
Cimon (DJ TOPICal Island)

Artists
Mayumi Arai, Björn Beneditz, Simon Dietersdorfer, Tobias Fandel, Fabian Gutscher, Larissa Holaschke, Eisa Jocson, Nuria Krämer, Ziyan Lan,  Chaoran Li, Shang-Chiao Li, Yingchi Lin,  Siyuan Liu, Xiaobin Liu, Haijiao Ma, Liane Mah,  Nicolas Müller, Ana-Maria Negrea, Andrea Roca, Benjamin Ryser, Ida Sons, Daniel Späti, Philipp Spillmann, Isabelle Sprenger, Nina Willimann, Ka Chung Wong and Jiaru Wu
This event is part of the transcultural and cross-disciplinary graduate semester program "Transcultural Collaboration".
Supported by:
Mercator Foundation Switzerland