Spicy Little Art Festival
Transcultural and Cross-disciplinary Art Performances and Installations
What happens if 22 artists from Asia and Europe from a wide range of art and design disciplines are collaborating for 14 weeks?
HOT POT – Spicy Little Art Festival proudly presents the final works of 6 art collectives, an explosive blend of cultural and artistic ingredients from Hong Kong, Mainland China, Taiwan, Japan, Switzerland, Germany, Austria and Romania. Come and taste two days of hard-boiled, finger lickin' crisp or tenderly melting performances and installations.
Friday, 20 November, 8pm
Connecting Space Hong Kong, G/F, 18-20 Fort Street, North Point, HK
Performance: "The Net[t]"
DJ-Set by DJ Sniff
Saturday, 21 November, 5pm
Kai Tak Campus, Academy of Visual Arts, Baptist University, 51 Kwun Tong Road, Kowloon, HK (MTR Choi Hung, Exit A2)
Performances & Installations: "Ab(sence)", "Tutu & Ida in Hong Kong", "How to Disappear (Almost Completely)", "Fucking Dead Banana", "What?!"
Afterparty with DJ Yao. Keep it boiling with drinks, food and dance till late!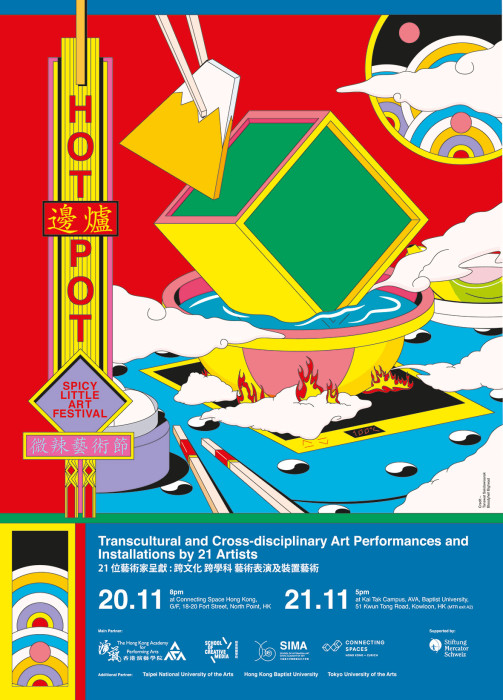 Program
Friday, 20 November, 8pm
The Net[t]
Reactive Performance by Larissa Holaschke, Li Shang-Chiao, Liu Siyuan, Nicolas Müller, Isabelle Sprenger, Wu Jiaru
Overwhelming.
Driven by the city's setup for economy and money.
Time to look up.
Join the Net.
The Net[t] proposes an immersive experiment on our reflections about the topic of human connections.
Saturday, 21 November, 5pm
Tutu and Ida in Hong Kong
Video installation walk by Ida Sons & Li "Tutu" Chaoran
Tutu and Ida, a team of Chinese and German investigators invite the audience to follow their journeys exploring the unexpected in the city of Hong Kong not knowing where everything will end up.
Bloom Room
Performative Installation by Ana Banana, Cimon Finix, Bruce Lee U
Three people in a room. Painting, composing, filming. Neck-deep.
Trying to make it bloom. Boom.
How to Disappear (Completely)
Video installation by Mayumi Arai & Nina Willimann
A series of practices around the process of disappearing – physically or metaphorically, temporarily and at least partially
In Chinese tradition, matters concerning the psyche and attainment of deeper insight are often approached via the body, not via the cognitive reflection. The basic idea of the Chinese martial art T'ai chi ch'uan (or Tai Chi) is linked to the philosophical principle that, if one uses hardness to resist violent force, then both sides are certainly to be injured. Instead, students are taught not to directly fight or resist an incoming force, but to meet it in softness and follow its motion while remaining in physical contact until the incoming force of attack exhausts itself or can be redirected.
Being both strangers in Hong Kong and Tai Chi beginners, we take this basic idea as our base for the development of a series of practices in order of trying to integrate, to become part of, to gradually disappear in a foreign environment.
absense
Site specific multimedia performance by Liane Mah, Philipp Spillmann, Ma Haijiao, Tobias Fandel
"absense" invites you to experience a very unusual spatial performance situation. How do your physical feeling and your thoughts affect your perception of space, movements, sounds and not least images and words? What can you see, what can you hear and how do you deal with it? Does your cognition leads you to new aesthetical experiences by reflecting the absence?
!?tahw
Multimedia Installation, Performance by Lan Ziyan, Dorothy Wong Ka Chung, Benjamin Ryser, Eva Lin Yingchi
Plastic bag top left. Two fishes. Moving fast.
Plastic bag middle right. One fish. Moving slowly.
Plastic bag top right. Three fishes. Not moving.
Plastic bag bottom left. Four fishes. Moving fast.
This event is part of the transcultural and cross-disciplinary graduate semester program called "Transcultural Collaboration" initiated by the Zurich University of the Arts in cooperation with various art universities from Hong Kong, Mainland China, Taiwan and Japan. The program is mainly taking place in Hong Kong as part of the collaboration platform "Connecting Spaces Hong Kong – Zurich". For more information on "Transcultural Collaboration" please visit our website.
Main Partners
Zurich University of the Arts; HK City University/School of Creative Media; China Academy of Art Hangzhou/School of Intermedia Art; Hong Kong Academy for Performing Arts
Additional Partners
Taipei National University of the Arts; HK Baptist University/Academy of Visual Arts; Tokyo University of the Arts/Department of Fine Arts
Supported by
Mercator Foundation Switzerland