5 June 2016

Moving Images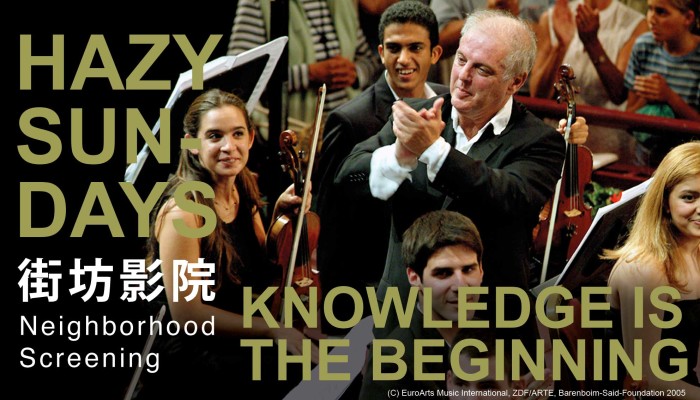 Date and Time: 5 June 2016 (Sunday), 3:30pm
Venue: Connecting Space Hong Kong (Directions)
Directed by: Paul Smaczny
Color | 2005 | 92min | English with no subtitles
This month, 'Hazy Sundays' brings you a screening of Emmy Award-winning documentary –  Knowledge is the Beginning by Paul Smaczny. This documentary tells the story of the West-Eastern Divan Orchestra, an orchestra made up of young musicians coming from Egyptian, Iranian, Israeli, Jordanian, Lebanese, Palestinian, Syrian and Spanish backgrounds who are brought together each summer. Founded in 1990 by Daniel Barenboim and the late Edward Said, the orchestra is an attempt to bring different points of view together through music making. The film chronicles five summer workshops in Weimar and Seville, as well as the concert performed in Ramallah in August, 2005.
Chosen by Samson Young, Dr Giorgio Biancorosso and Qinyi Lim, this month's screening is part of the exhibition public programme of Orchestrations.
About HAZY SUNDAYS
"Hazy Sundays" is a monthly screening programme curated by Chantal Wong, Nuria Krämer and friends. Through presenting a range of handpicked films by cultural figures in Hong Kong,"Hazy Sundays" seeks to show the various perspectives on identity construction in relation to history and the changing economic and politic situations in urban cities like Hong Kong. "Hazy Sundays" looks at the junction of artistic creation and cinema, media politics, identity and site in an approachable way, inviting members of the public and movie aficionados to engage in social dialogues, re-examining the relationships between the self and the culture.
All screening sessions are open to public and free of charge.
星期日街坊影院:《薩伊德的和平狂想曲》
彩色 | 2005 | 92分鐘 | 英文,無字幕
導演: Paul Smaczny
日期:
2016年6月5日(日)
時間:
下午3:30至下午5:00

地點:
Connecting Space Hong Kong
(地址)
今次「星期日街坊影院」將播放由Paul Smaczny執導,榮獲艾美獎的紀錄片《薩伊德的和平
狂想曲》(Knowledge is the Beginning)。紀錄片講述「西東合集管弦樂團」
(West-Eastern Divan Orchestra)的故事。樂團由來自埃及、伊朗、以
色列、約旦、黎巴嫩、巴勒斯坦、敘利亞和西班牙的年青音
樂家組成,每年夏天他們會聚在一起演奏。樂團在1990
年由Daniel Barenboim 及已故的Edward Said共同創立,試圖通過音樂創作來融和不同觀點。本
片以編時記敘,描述了在魏瑪(Weimar) 和塞維利亞(Seville)五個夏天進行的工作坊,以
及2005年8月在拉馬拉(Ramallah)舉辦的演
奏會。
《薩伊德的和平狂想曲》由楊嘉輝, 音樂學家Giorgio Biancorosso博士與策展人林沁怡共同選片。