28 June 2015
Moving Images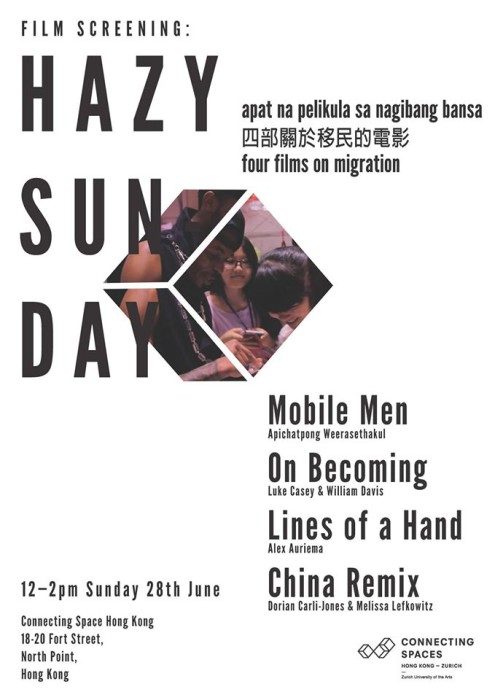 Date and Time: 28 June 2015 (Sunday), 3:00pm
Venue: Connecting Space Hong Kong (Directions)
Four Films on Migration selected by Luke Casey & William Davis
Mobile Men
Directed by: Apichatpong Weerasethakul
Thailand | Color | 2008 | 4min | In Thai with English Subtitles
Two young men sit in the back of a moving truck, filming each others bodies with a handheld camera being passed back and forth. The backdrop to Mobile Men is the theme of migrant workers in Thailand arriving from it's neighbouring states of Burma, Laos and others, and their deteriorating rights since the 2006 military coup.

On Becoming
Directed by: Luke Casey & William Davis
Hong Kong | Color | 2019 | 12min | In English with no Subtitles
3% of the population of Hong Kong are foreign domestic workers, this number being about 300,000, the overwhelming majority of which are women from the Philippines and Indonesia. The complexity of migration in this film is set against the aesthetics of massive infrastructural expansion, in this case the Hong Kong-Macau-Zhuhai Bridge project, which is set for completion in 2019.
Lines on a Hand
Directed by: Alex Auriema
Color | 15min

Shot over the course of two months in the region of Campania, Italy, this short ethnographic film follows the fragments of the life of a Senegalese labour migrant.
China Remix
Directed by: Dorian Carli-Jones & Melissa Lefkowitz
Color | 2015 | 30min | In English

The city of Guangzhou is home to China's largest community of African immigrants. This short documentary explores the city's burgeoning African entertainment industry through the lives of three African hip-hop artists who are trying to find success in the face of China's challenging labor and immigration laws. The film follows the entertainers as they prepare for their shows, perform, and live their daily lives with their Chinese and African family members and friends.
About HAZY SUNDAYS
"Hazy Sundays" is a monthly screening programme curated by Chantal Wong, Nuria Krämer and friends. Through presenting a range of handpicked films by cultural figures in Hong Kong,"Hazy Sundays" seeks to show the various perspectives on identity construction in relation to history and the changing economic and politic situations in urban cities like Hong Kong. "Hazy Sundays" looks at the junction of artistic creation and cinema, media politics, identity and site in an approachable way, inviting members of the public and movie aficionados to engage in social dialogues, re-examining the relationships between the self and the culture.
All screening sessions are open to public and free of charge.