28 / 29 June 2016
"UN-GUIDED TOUR" around the city and manifesta with soundpocket / Hong Kong
Date and Time: 28 June 2016 (Tuesday), 5:00 to 7:00 pm
Subsequently: "Zurich-Cantonese Dinner in Exchange" (Cultural Exchange and meet-and-greet occasion)
Workshop with sound pocket / Hong Kong
Date and Time: 29 June 2016 (Wednesday), 5:00 to 7:00 pm
Venue: Duttweiler-Areal, 8005 Zurich, between crossroad Pfingstweidstrasse/Duttweilerstrasse and footbridge Gleisbogen (Directions)
With Wong Ka Ki Alice, Cheung Tsz Hin, Chan Wing Sing Alvin and Chan Chor Shan Sharon from sound pocket together with the slow spicy curatorial team.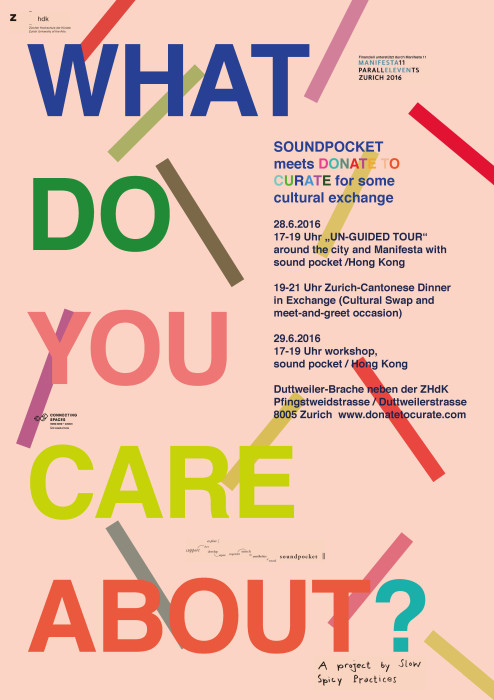 soundpocket
To create a community of active listeners who are curious about listening as a way of knowing ourselves and each other;
To support, critique, and contribute to our public culture of listening;
To regard and articulate sound collecting as an artistic practice;
To promote listening as a way of being and being with others.
soundpocket is a promoter, educator, facilitator, and gatherer. We work in the fields of sound, art and culture. We find sound in diverse and dynamic relations with many different art forms (visual art, installation art, music, theatre, dance etc.), and with a variety of cultural contexts that give meanings to our lives. We would like to work with all those who share this active interest in sound.
soundpocket supports not just an art form, but ideas and possibilities that engage with aesthetically meaningful, culturally-grounded and publicly relevant sonic practices, which have a lot to teach about how we understand the world and the experiences yet to be valued.
Donate to Curate — Manifesta 11 Parallel Events
Social repression and economic growth seem to be common characteristics of globalization in our cityscapes. The recapitalization of the city sets free unbridled forces of capitalist power, against which resistance seems almost impossible, even within the somewhat moderate context of Zurich. What then to do when our labour towards a new conception of the city remains unremunerated? What do people do for little or no money?
The processes of individualisations, which have been set free by neoliberalism and the recapitalisation of the city, must be countered by new forms of living and working. This is especially the case given that capitalism has been allowed to expand unchecked in the arts. It doesn't need to be this way. Solidarity instead of individualisation, closed-circle economy instead of garbage incineration, sufficiency instead of blind consumption, questioning of food production processes, and development of new models of reuse. No heterotopias are required, rather concrete examples, places where our society can be reflected upon, and which are based on trust and mutual concern, ones that involve as well a concern about our relationship with nature.
With this as our purpose, we will set up a point of exit, located in a small courtyard stuck between thoroughfares, at the gateway to the city, between the university of the arts and grand hotels, next to start-ups and real-estate investors. We want to fill the space with that which others no longer use, what they throw out, and through this generate a new proposal for the city. Our open-source glossary archives and combines all those activities that take place in this context, without any claim to completeness.
About Slow Spicy Curatorial Practices
As an open collaboration based in Zurich and Hong Kong "Slow Spicy Curatorial Practices" reflects on contemporary curatorial practices and wants to share questions, urgencies and working practices: What is curating in times of globalization and crisis? What are the intangible value of our work? How do people incorporate and contrast mobility as a central demand of a globalized world with our own, personal engagement? And how could curating (lat. curate – to take care of) be understood as a way of caring through gestures of hospitality, sharing and of care?
www.donatetocurate.com
www.slowspicy.net