Presentation
23 September 2016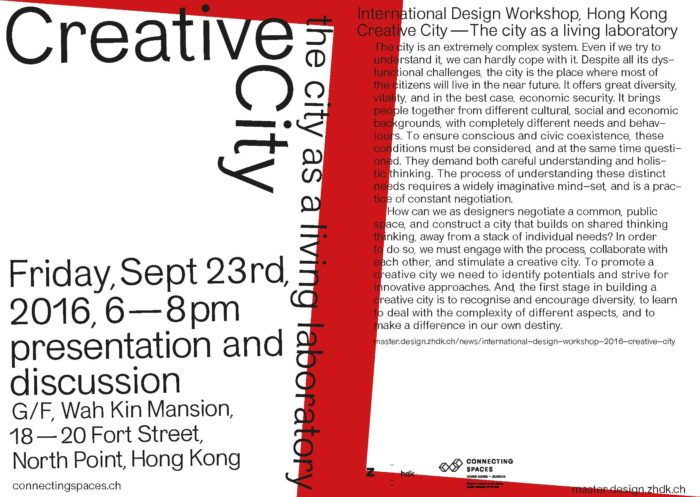 Date: 23 September 2016 (Friday)
Time: 6:00pm – 8:00pm
Venue: Connecting Space Hong Kong (Directions)
The outcome of the one-week intensive international design workshop will be delivered in the evening's exclusive sharing. With the aim to discuss, explore, and experiment with the potential of design practice and thinking within a creative city, the workshop organiser invited three Hong Kong based professionals — designers, researchers, and artists — to run individual workshops on the given topic to fellow students of Master of Arts in Design at the Zurich University of the Arts.
The city is an extremely complex system. Even if we try to understand it, we can hardly cope with it. Despite all its dysfunctional challenges, the city is the place where most of
the citizens will live in the near future. How can we as designers negotiate a common, public space, and construct a city that builds on shared thinking thinking, away from a stack of individual needs?
To promote a creative city we need to identify potentials and strive for innovative approaches. Join us tomorrow evening to see what some of the city's best creative talents inspired in the week's design workshop.
About International Design Workshop
The MA in Design at the Zurich University of the Arts hosts an interdisciplinary design workshop every year. This is the second time that the workshop takes place in Hong Kong at Connecting Space Hong Kong.
Design students get the opportunity to participate in a workshop in Hong Kong, in order to explore the given topic with professionals from different backgrounds, and to exchange ideas as well as methods related to design, arts and theory.
For more about the Workshop, please click here.
Concept and Realisation
Karin Zindel, Research Associate Master of Arts in Design
Collaboration and Support
Connecting Spaces Hong Kong — Zurich
Workshop Leaders
Dr. Yanki Lee, Social Designer, Design Researcher
Michael Leung, Designer, Beekeeper and Urban Farmer
Dr. Kacey Wong, Visual Artist and Educator