20 March 2016
Public Talks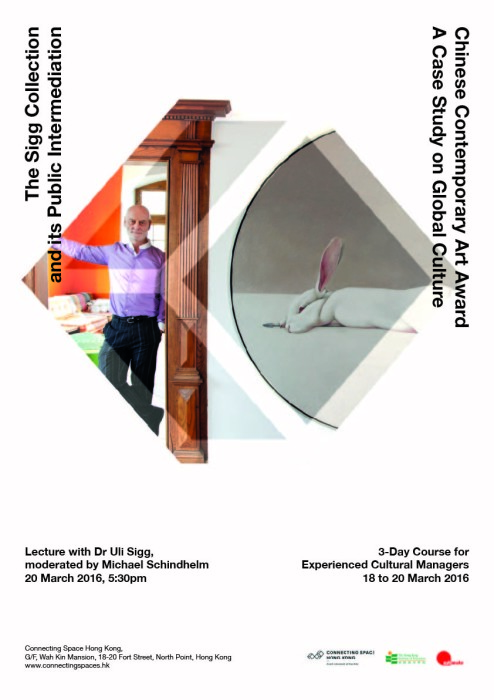 Date: 20 March 2016 (Sunday)
Time: 3:30pm & 5:30pm
Venue: Connecting Space Hong Kong (Directions)
Description
As part of the executive education course, "Chinese Contemporary Art Award (CCAA) – a Case Study on Global Culture", Zurich University of the Arts (ZHdK) and Connecting Spaces Hong Kong-Zurich invited Dr Uli Sigg, founder of the Chinese Contemporary Art Award (CCAA) and renowned art collector, to share his views on his collection. This lecture will share a good glimpse of the mentality behind Dr Sigg's inception of CCAA and a not-to-be-missed opportunity for those who are interested in the Sigg Collection and Hong Kong's M+ Museum. The talks will be moderated by Michael Schindhelm.
The public lectures will cover:
The Sigg Collection as a document of Chinese contemporary

 art;
CCAA as a narrative of the emergence of Chinese art scene since 1990;
The establishment of the M+ Museum as a politically independent flagship of Chinese contemporary art
Curating Chinese contemporary art;

Hong Kong as an example revealing the "local" and "global" aspects of an Asian metropolis and its cultural landscape;

Art and the (art) market from the perspective of Hong Kong as a hub of the international art market.
Admission and Enquiries
The talks are free of charge on a first-come-first-served basis. For enquiries, please contact (+852) 9072 6901; connectingspace.hk@zhdk.ch