18 July – 13 August 2015
Exhibition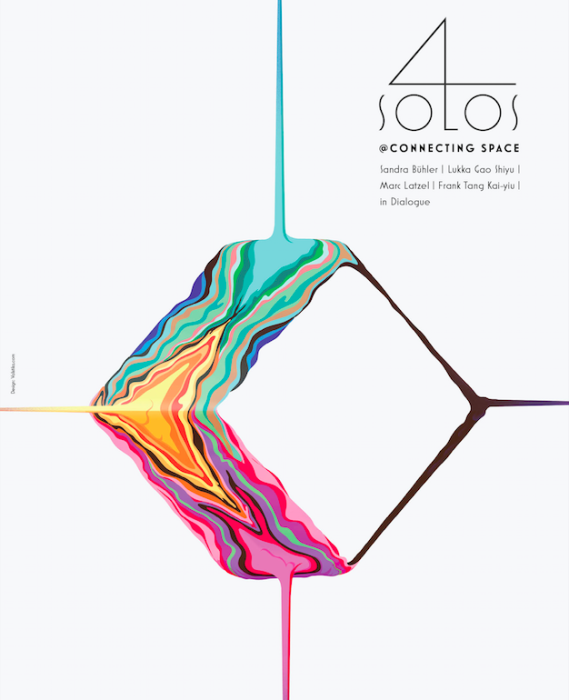 Opening Reception: 17 July 2015 (Friday), 6:00pm
Artist Talk: 17 July 2015 (Friday), 7:00pm
Exhibition Period: 18 July – 13 August 2015
Time: 11:00am – 7:00pm
Venue: Connecting Space Hong Kong (Directions)
Artists: Sandra Bühler, Lukka Gao, Marc Latzel, Frank Tang
Curators: Katja Gläss, Alice Wong
The exhibition 4 Solos @ Connecting Space brings together works by two Hong Kong-based and two Zurich-based artists, reflecting their stay in the opposing city. Presented as four simultaneous solo exhibitions, the heterogeneous practices nevertheless enter into dialogue centered on the common issue of confrontation with alterity.
Solo 1 – "Hong Kong Sketches" by Sandra Bühler
The Zurich-based artist Sandra Bühler presents two cinematic sketches: in Mitch and Alfred (2014), Mitch reports from the no man's land, the Chungking Mansions, where his identity gradually slips away in a maze of dreams and reality. In Do you hear the people sing? (2015) an artist enters the theatre of the Umbrella Movement, trying to decipher what has happened in Admiralty and Mong Kok after 38 days of protesting.
Solo 2 – "Take Your Protein Pill and Put Your Helmet On" by Lukka Shiyu Gao
In her exhibition, Lukka Gao explores the topic of identity and encounters with foreign cultures through the lens of science fiction. In the two installations Fear and Desire in 1:12 (2015) and Everyone but Hong Kong Sinks (2015), the artist builds fantastical metaphors to tackle the often ugly and challenging questions that arise in situations of cultural exchange.
Solo 3 – "Schmutzfarbe" by Marc Latzel
The Zurich-based photographer Marc Latzel shows a photographic mosaic that investigates the distinct tones and colour temperatures his professionally trained eye discovered in Hong Kong. His photographs capture the viewer's attention with their enigmatic composition, revealing hidden patterns and associations in everyday life.
Solo 4 – "I Was Away for a While" by Frank Kai-yiu Tang
The exhibition of Hong Kong artist Frank Tang presents the artist's response to his artistic residency in Zurich last year. Through the various traces of the cityscape shown in this exhibition, the artist encourages the viewer to reflect on the relationship between humans and nature, a relationship that is no longer very present in the daily life of big cities such as Hong Kong.
Supported by
Stadt Zürich Kultur, Migros Culture Percentage, Zurich University of the Arts
The Exhibition by Frank Tang Kai-yiu is supported by the Hong Kong Arts Development Council